The Best Cold Brew Makers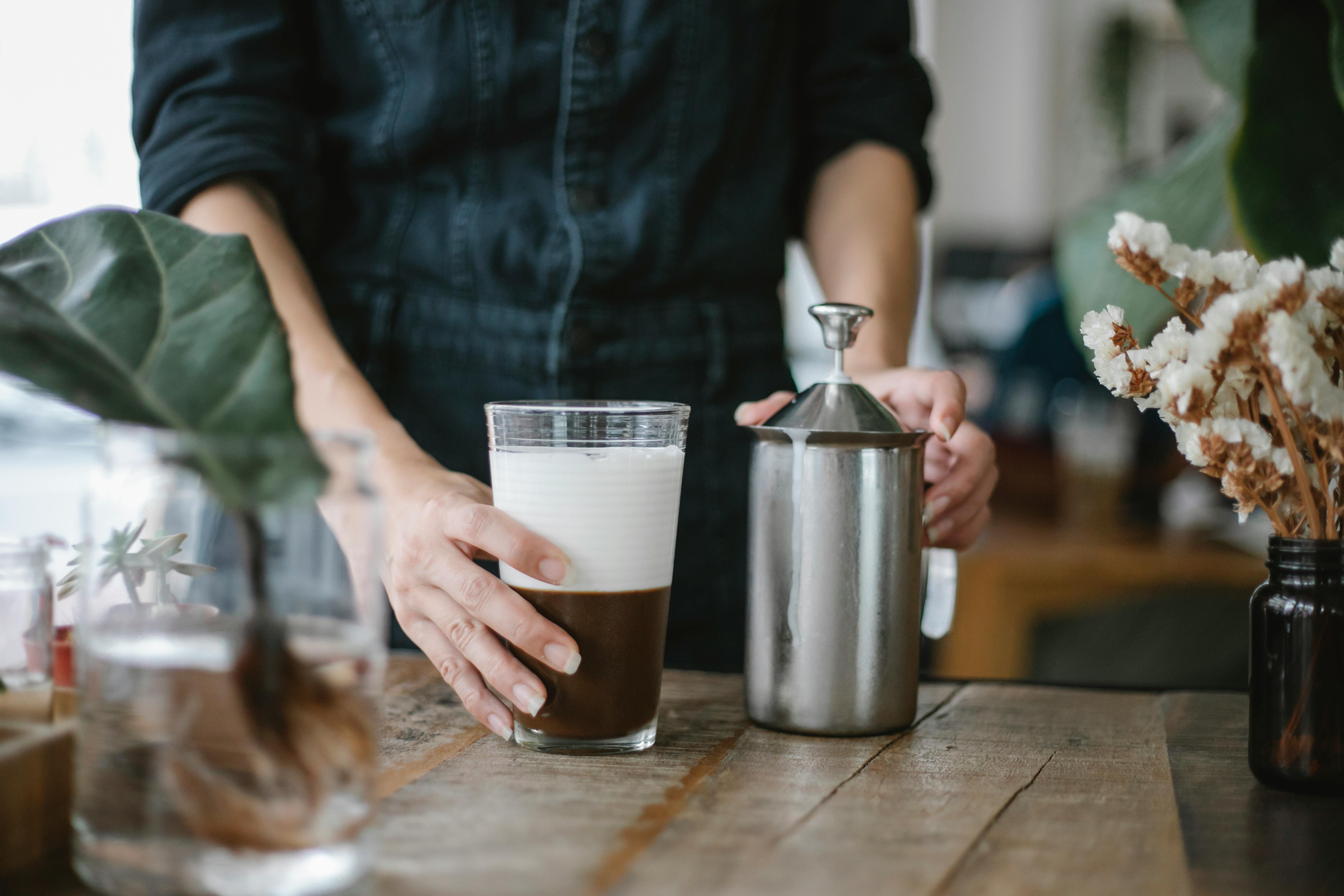 Not too long ago, cold brew took the coffee world by storm thanks to its super smooth body and easy, overnight brewing process. To make it, you simply add coarse grounds to room temperature water before bed and let it steep for 12–24 hours. Unlike some caffeine-related trends, the cold brew buzz has continued to grow — and we're here to help you navigate which brewing products are worth the craze. Whether you're looking for a party-proportioned pitcher or a more manageable quart-sized carafe, we've reviewed cold brew makers of all shapes and materials. Read on to find out which model best suits your taste buds.
Takeya Patented Deluxe Cold Brew Coffee Maker
This supremely affordable and functional four-quart cold brew maker is compact and BPA-free.
At first glance, this cold brew maker looks a lot like a regular French press, but a few small details make all the difference. Takeya utilizes Tritan plastic for a shatter-, cloud-, stain-, and odor-proof alternative to glass. It's also BPA-free and can withstand boiling hot and freezing cold temperatures. The fine, stainless steel mesh coffee filter keeps grounds out, while the airtight seal locks in freshness and flavor. No need to worry about storage, either, since the whole unit is designed to fit snugly in the door of most refrigerators.
Pros:
Carafe can withstand boiling water and freezing cold temperatures
Airtight lid allows shaking to mix up the grounds
Slim design fits in the refrigerator door
Cons:
No measurement markings on the side of the pitcher
Elite Gourmet HyperChiller by Maxi-Matic
This cooler uses regular water to bring your coffee down to temperature without over-diluting it.
No, the HyperChiller from Elite Gourmet isn't explicitly a cold brew maker, but hear us out. Sometimes iced coffee cravings hit hard, and you don't have 12 hours to whip up a cold brew. But instead of pouring hot coffee over ice and watering down your drink, you can throw your brew still steaming into this handy contraption. It drops the temperature of your drink by over 100 degrees Fahrenheit in just 60 seconds. And unlike other chillers, this one utilizes regular water to cool your coffee, so all parts of the unit are dishwasher-safe.
Pros:
Can brew K-Cup or single-serving coffee directly into the unit
Drops temperature over 100 degrees Fahrenheit in 60 seconds
Uses regular water instead of synthetic gels, so it's dishwasher-safe
12.5-ounce capacity is enough for two servings of an iced beverage
Cons:
Must be refilled and frozen every time before use
Willow & Everett Cold Brew Coffee Maker
This gallon-sized cold brew jar makes Sunday morning brunch a breeze with a large-capacity body and handy spigot.
If mimosas aren't on the menu for Sunday's brunch, we'd gladly take a big pitcher of cold brew. While most contraptions that expedite the brewing process lack volume, this party-sized jug from Willow & Everett makes enough coffee to serve 16 friends — and that's if you're choosing not to dilute the concentrate. Thanks to a handy spigot that makes self-serving a breeze, you can spend less time topping off cups and more time socializing. If you're not able to finish, the seal on this jar will keep your brew fresh in the fridge for up to two weeks.
Pros:
Huge storage and brewing capacity of one gallon
Spigot attachment makes self-serving easy and spill-free
Airtight seal keeps the coffee fresh for two weeks in the fridge
Aesthetically pleasing, decorative design
Cons:
Too large to fit in the door of most refrigerators
Cafe du Chateau Cold Brew Coffee Maker
This stainless steel-accented carafe makes the cold-brewing process simple and stylish.
If you're going to invest in a whole new kitchen gadget, you might as well like looking at it. For folks who are more minimalist and modern than they are rustic and country, Cafe du Chateau's cold brew maker features sharp, clean lines. The thin, elegant borosilicate glass carafe is sturdy and thermal shock-resistant, while the food-grade stainless steel housing is warp- and rust-proof. When compared to typical steel mesh, this filter with tiny, laser-cut holes makes for sturdier construction and better flavor infusion. And thanks to a dual-layer silicone seal, you won't lose any flavor during the brewing process.
Pros:
Borosilicate glass is thin but durable and resistant to extreme temperatures
Stainless steel housing is corrosion-, warp-, and rust-proof
Markings along the side for easy measuring and quick brewing
Laser-cut stainless steel filter offers better flavor infusion
Cons:
Only the carafe and stainless steel housing are dishwasher-safe
County Line Kitchen  Cold Brew Mason Jar Coffee Maker
The air-tight silicone seal on this mason jar will keep your coffee fresh for up to two weeks.
Mason jars have had a huge resurgence in popularity over the last couple of years, and for good reason. Their durable construction can be used for jamming, pickling, preserving, and brewing, while their aesthetic also lends itself to serving and decorating. Moreover, they're incredibly easy to clean and don't retain smells or stains, which makes them ideal for brewing coffee. Along with the traditional mason jar features, County Line Kitchen adds a supremely rigid stainless steel filter that has rolled seams to remove sharp, metallic edges. Two thin but functional silicone seals preserve freshness and prevent the contents from leaking so that you can achieve the perfect cup every time you brew.
Pros:
All the traditional advantages of mason jars, such as being stain- and odor-resistant
Stainless steel filter resists bending for long-lasting use
Rolled seams prevent cuts from sharp edges
Two silicone seals added for extra security
Cons:
Wide mouth is easy to clean but doesn't pour well
Frequently Asked Questions
What makes cold brew different from regular coffee?
Instead of steeping coffee grounds in hot water, cold brewing utilizes cold or room temperature water to slowly extract the flavor over 12 – 24 hours. This results in a brew that is far less acidic, but also significantly more concentrated than regular coffee. For that reason, most people dilute their finished product, which also helps extend your supply so you don't have to brew every night.
What ratio should I be using for my cold brew?
While there are plenty of "golden" ratios suggested, we'd recommend starting with a ratio of 4:1 — four parts water to one part grounds. After you get a handle on the brewing process, feel free to play around with the ratio to suit your needs and taste. If you can, try to measure your ingredients by weight (using a kitchen scale) rather than volume, but don't worry if that's not an option. Weight is more exact, but it won't make or break a cup of cold brew.
About the Author
Why Trust Us
Since 2010, Momtastic has provided millions of parents with a complete guide to raising a family in a healthy home by offering our expert advice on everything from car seats for kids to baking supplies for the kitchen. It takes a village to raise a family, and our experts are here to make sure every parent finds a little bit of that village in us.