The Best Matcha Tea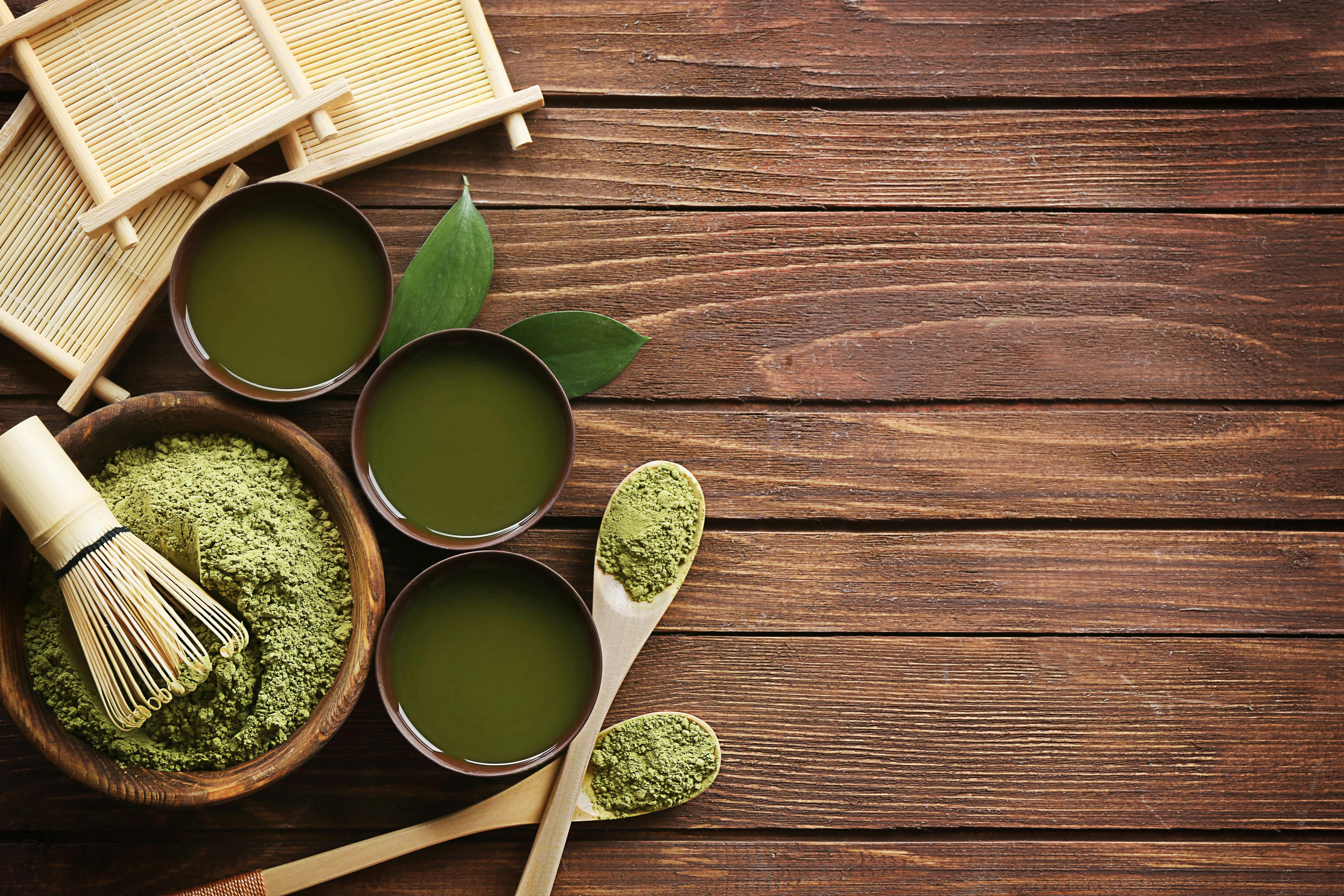 Matcha tea has taken the coffee shop world by storm — and for good reason. The finely ground powder made of special Japanese green tea leaves provides a huge boost of antioxidants, along with a sustained caffeine kick. Those who find themselves crashing after one cup of coffee have fully embraced the matcha mania, and it's high time that we all give it a taste, too. To help you whisk up the perfect cup, we've highlighted some of the best matcha teas on the market. Read on for our scoop on the good stuff, and before long, you'll be scooping and sipping your own light-green latte.
Jade Leaf Organic Matcha Green Tea Powder
This ceremonial-grade matcha powder is potent and authentically farmed in the tea fields of Japan.
If you're not familiar with matcha tea, the price of Jade Leaf's powder might come as a shock — but remember: a regular serving of this organic, shade-grown matcha is only half a teaspoon. In other words, this one-pound bag of green goodness will provide 340 cups of tea on average, depending on how much you deviate from the standard serving size. We love that the company is committed to farm-to-consumer tea and cultivates close relationships with its farmers. Sourced directly from the Japanese fields of Uji and Kagoshima, this matcha tea is hard to beat in terms of both quality and price.
Pros:
Bulk purchase can provide hundreds of servings
Certified organic, ceremonial-grade matcha
Sourced directly from Uji and Kagoshima fields in Japan
Lab-tested by a third party before consumption
Cons:
Limited offerings when it comes to quantity
Kiss Me Organics Matcha Green Tea Powder
This certified USDA-organic matcha powder gives you a sustained boost of energy and antioxidants.
The all-natural, organic energy boost you get from a scoop of Kiss Me Organics' matcha is not to be taken lightly. One of the biggest complaints of coffee drinkers is the crash that can frequently occur after your first cup wears off; with matcha, that dramatic caffeine curve is effectively mitigated. Instead of two hours of peak performance, you get a more even dispersal of energy over a longer period of time. This powder is also certified USDA-organic, so you don't have to worry about harmful additives making their way into the mix.
Pros:
USDA certified-organic matcha powder
Sizes range from 1-ounce to 16-ounce bags
Significantly cheaper cost per ounce when compared to other powders
Cons:
Culinary-grade matcha is a step below ceremonial-grade powder
Jade Leaf Organic Matcha Latte Mix
Be your own at-home barista with the help of this slightly sweetened matcha powder mix.
If you're just beginning your matcha mania, the gritty green tea can taste more than a tad bitter than you might be expecting. For those who are hoping to recreate those cafe-worthy lattes at home, Jade Leaf has added a dash of sweetness to this matcha mix. Simply add your favorite milk — non-dairy alternatives included — to this powder and enjoy a perfectly balanced matcha latte. The back of the canister provides straightforward instructions on how best to prepare your morning mug, whether you're whisking up something hot or iced.
Pros:
Combination of organic matcha powder and unrefined cane sugar
Well-balanced drink without having to add your own sweetener
Easy-to-follow instructions for three different preparations on the packaging
Cons:
Quality is not specified on the packaging
Vital Proteins Matcha Collagen Peptides Powder Supplement
This pick adds a dash of collagen peptides to culinary-grade matcha powder.
Vital Proteins is a professional when it comes to infusing everyday goods with dietary supplements. Its matcha powder stands as a trendy testament to this truth. The blend of culinary-grade powder and collagen peptides gives you a boost of antioxidants while also supporting healthy hair, skin, nails, and joints, because — let's face it — it's no fun having to take those supplements on their own. In light of that, it's certainly worth investing in a product that packs it all into one wonderful powder. Mix it with water or your favorite milk for a daily dietary boost.
Pros:
Ten added grams of collagen peptides support healthy hair, skin, and joints
Culinary-grade matcha can be dissolved in water or any type of milk
Mixture is slightly sweetened to balance the bitterness of pure matcha
Cons:
Powder is not certified organic
PureChimp Matcha Green Tea Powder
This option offers turmeric, lemon, and mint matcha powders in addition to traditional ceremonial-grade matcha.
We know: flavored matcha might be a hard sell, but PureChimp has a pretty tantalizing offer. Instead of overly sweet flavors that try to mask the bitterness of matcha, PureChimp relies on natural additives that soften it. The brand blends ceremonial-grade powder with lemongrass, mint, or turmeric to create unique, complementary flavor profiles. If that's not enough to win you over, PureChimp also dedicates five percent of its profits to charity, and it only uses recycled glass to package its tea.
Pros:
Flavored with natural additives
No added sugar
PureChimp brand is committed to sustainability
Cons:
Only offered in 1.75-ounce jars
Frequently Asked Questions
What is the difference between ceremonial and culinary-grade matcha?
Essentially, they differ in how they're intended to be used. Where ceremonial matcha is supposed to be whisked with hot water and served on its own, culinary matcha is meant to be mixed into lattes, baked goods, and smoothies. Accordingly, the former is said to have a fresher and slightly sweeter flavor, while the latter tastes bitter and earthy.
Are there any proven health benefits to matcha?
While there has been some research to suggest that matcha powder can help reduce the risk of cancer, there have been no conclusive clinical trials. Such reports relied strictly on population-based studies that simply observed the health of tea drinkers. On the other hand, matcha is markedly more beneficial than traditional green tea. Even the lowest-grade matcha can have significantly more antioxidants than a pot of steeped leaves.
About the Author
Why Trust Us
Since 2010, Momtastic has provided millions of parents with a complete guide to raising a family in a healthy home by offering our expert advice on everything from car seats for kids to baking supplies for the kitchen. It takes a village to raise a family, and our experts are here to make sure every parent finds a little bit of that village in us.