The Best Mini Exercise Bikes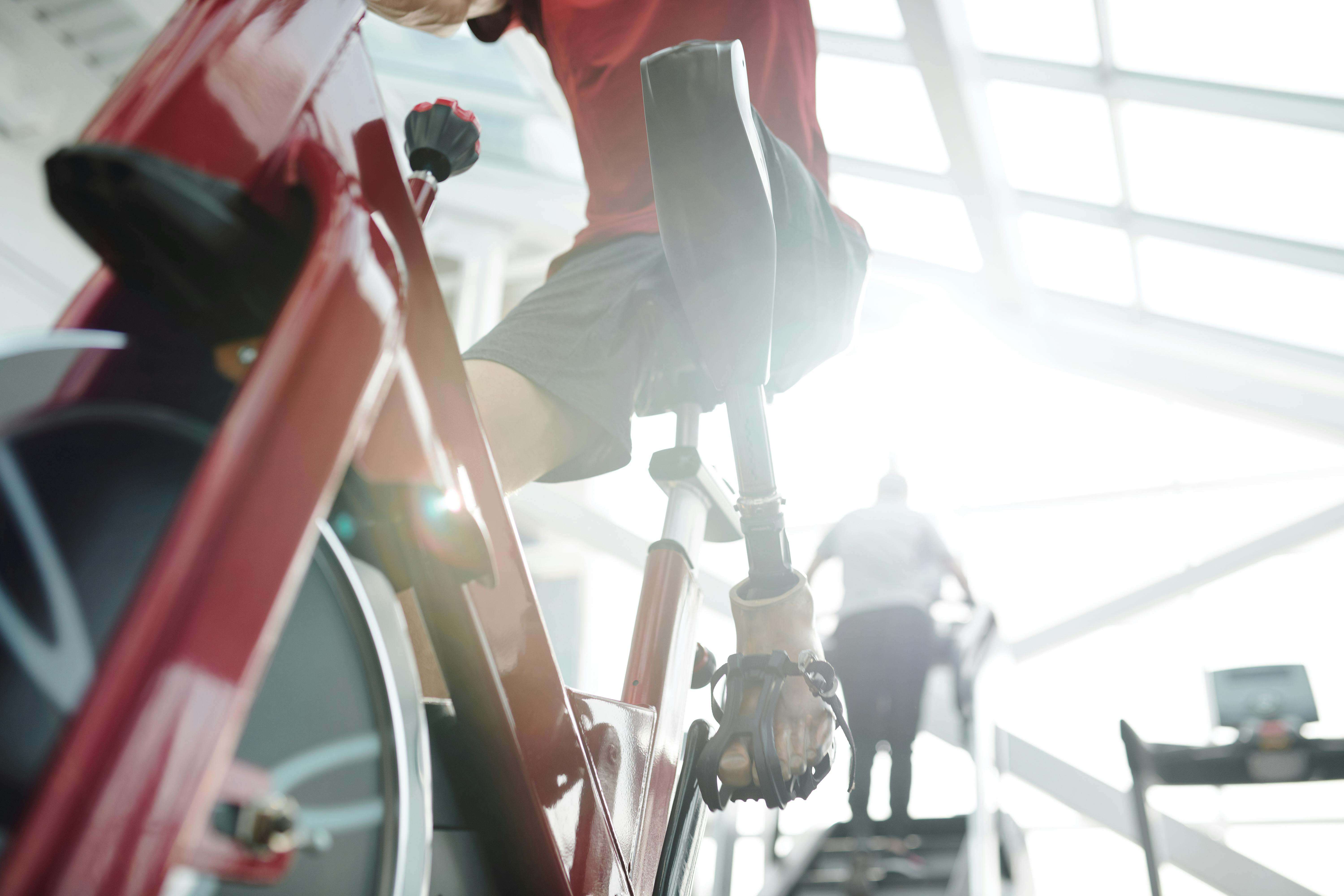 Whether you're in the process of rehabilitating a recent injury or just looking for an easy way to work out, mini exercise bikes offer a host of benefits. By removing the high-raised seat and paring down the bulky body of the traditional stationary bike, manufacturers have created miniature exercise machines that are far more accessible and transportable. Just place the unit at the foot of your chair and pedal away while working, reading, or watching your favorite show. We've rounded up some of the best mini exercise bikes on the market, so read on to find your newest calorie-burning companion.
Himaly Mini Exercise Bike
This portable and light miniature exercise bike can help you get back in shape without breaking the bank.
If the whole "mini bike" pitch has you at least a little intrigued, we'd suggest giving Himaly's pedaling machine a spin. At just under ten pounds, this unit comes equipped with a non-skid base, comfortable pedals, and an LCD monitor to track progress. Turn up the heat with the handy tension knob which helps you to transition smoothly from rehabilitation to strengthening. When your ride is over, storage is a cinch thanks to a compact body that measures just over one foot high.
Pros:
Non-skid base ensures stability while pedaling
LCD monitor clearly displays rotations per minute (RPM), speed, distance, and time
Very affordable tool for rehab and gentle exercise
Cons:
No handle for convenient transportation
Wakeman Under Desk Bike Pedal Exerciser
Keep track of your revolutions per minute, total revolutions, and time elapsed with the help of this mini bike's electronic display.
Don't let the slim build of this mini exercise bike fool you — it still packs plenty of functionality into its lightweight body. After unfolding the collapsible legs, place the non-slip feet pads on a smooth surface for a sturdy pedaling experience. You can adjust the straps and resistance dial to suit your foot size and workout goals, respectively. Best of all, Wakeman's mini bike has a five-function electric display so you can clearly keep track of metrics like distance, time, and RPM.
Pros:
Slim, foldable design is easy to store and transport
Use included straps to tie the unit to a chair so it doesn't slip on carpeted surfaces
Large, visible electronic display helps you track progress
Cons:
Height may be unsuitable for use underneath desks or counters
DeskCycle 2 Under Desk Bike Pedal Exerciser
This sneaky pedaler designed to fit snugly underneath your desk gives "working out" a whole new meaning.
Though the majority of mini exercise bikes are significantly more mobile than their larger counterparts, few are optimized for under-the-desk usage — and we mean that literally. Sure, DeskCycle's pedal exerciser combines a precision flywheel and magnetic resistance for a quiet stationary ride. But the key feature is its height, measuring at just under one foot. Think of this unit as the recumbent bike (i.e., reclining bicycle) of mini exercise appliances; you can lean further back into your couch if you want to, but the pedals rest low enough for your knees to comfortably clear a work desk, too.
Pros:
Just under one foot in height, which enables you to pedal while sitting at a work desk
Precision flywheel and magnetic resistance offer smooth, silent operation
Eight calibrated tension settings for warming up, rehabilitating, and muscle toning
Removable display can be placed upon your desk for better viewing
Cons:
Not foldable for quick storage or transportation
MagneTrainer-ER Mini Exercise Bike
This bike utilizes a flywheel and magnetic resistance to provide the smoothest pedaling possible.
If you're just learning that mini stationary bikes are a thing, you're not alone. Even we were surprised to learn that physical therapists (PT) and rehab facilities have been using them to assist with muscle strengthening for years now. While most industry-standard machines will cost a pretty penny, MagneTrainer's PT-level product offers just as much bang for even fewer bucks. This is one of the heavier models out there, weighing in at 23 pounds thanks to an alloy-steel construction and wide base. For all its added weight, the flywheel still rides like a dream — depending, of course, on which of the 20 levels of resistance you choose.
Pros:
PT-quality mini bike for around half the going rate
Strong steel-alloy frame is durable and prevents slipping during use
Twice the number of magnetic resistance levels as most of the competition
Velcro foot straps on the pedals are fully adjustable
Cons:
Heavier weight makes it more of a permanent household fixture, especially for older users
Sunny Health & Fitness Magnetic Mini Exercise Bike
The steel frame and magnetic resistance of this mini exercise bike promise years of daily use.
Rehab and physical therapy won't last forever, but that doesn't mean you should stop toning your muscles. For a mini exercise bike that will last you long after the days of regimented workouts, look no further than this model from Sunny Health & Fitness. In combination with a belt-drive mechanism, the light flywheel makes each stride smooth while the magnetic resistance knob adjusts tension levels. The non-slip pedals even feature individual finger grooves, which make for a more comfortable upper-body workout when used on a tabletop.
Pros:
Magnetic resistance knob is large and easy to use
Wide, non-slip base promises sturdy pedaling without sliding
Handle makes it easier to carry and move
Pedals are grooved and have individual indentations for fingers
Cons:
The display screen is small in comparison to the rest of the unit
Frequently Asked Questions
How do I keep the bike from sliding away from me during use?
Most mini exercise bikes have non-slip pads as a part of their base, which should provide a stable ride when used on a smooth, dry surface. Carpets may present a bigger challenge depending on their pile (i.e., thickness), so some brands include straps to fasten the bike to the legs of your chair. Makeshift straps can always be made in a cinch, but consider what surface you're going to bike on before purchasing — that way, you're prepared to pedal without pushing your machine away.
How intense is a workout on a mini exercise bike?
While varying levels of tension can take your workout from rehab-focused to muscle toning, by no means are you going to be dripping in sweat by the end of a ride. They're great ways to make sedentary workdays a little more active, but they can't fully replace the training functionality of a true stationary bike.
About the Author
Why Trust Us
Since 2010, Momtastic has provided millions of parents with a complete guide to raising a family in a healthy home by offering our expert advice on everything from car seats for kids to baking supplies for the kitchen. It takes a village to raise a family, and our experts are here to make sure every parent finds a little bit of that village in us.