The Best Stovetop Espresso Makers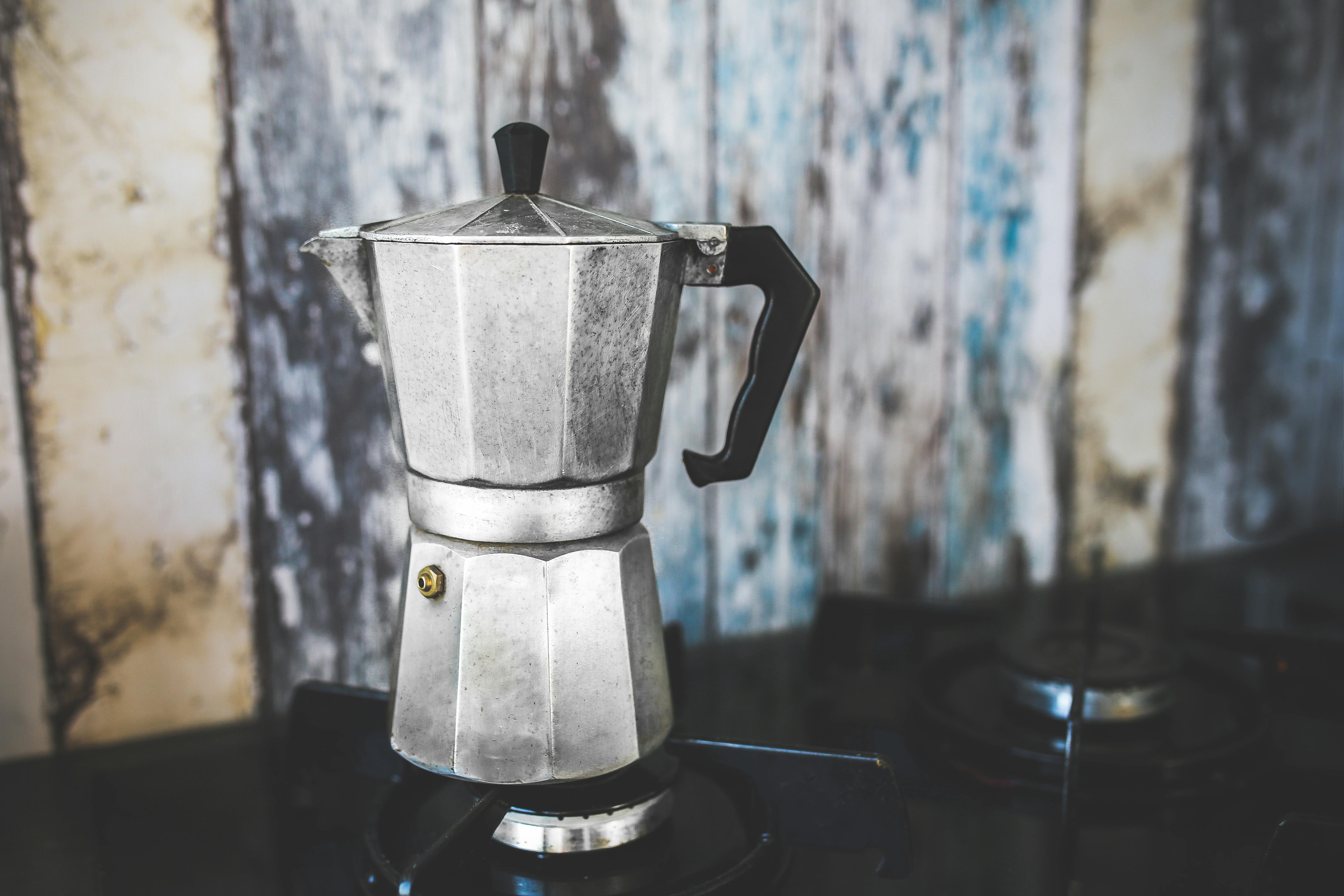 For many coffee drinkers, espresso can be a game-changer. Packed with flavor and caffeine, a quick shot in the morning gives you everything you need in half the time it takes to brew a pot of drip coffee. Traditional espresso makers are expensive and bulky, but their stovetop counterparts can save you money, space, and time. While you probably won't be able to whip up any latte art with the resulting brew, it's certainly still worth sipping. To help you establish a new morning caffeine routine, we've compiled a list of some of the best stovetop espresso makers on the market. Read on to find out which model best suits your bittersweet taste buzz.
Imusa Aluminum Stovetop Espresso Maker
This aluminum espresso maker is an affordable and reliable way to brew a strong cup of the good stuff every morning.
If you know anything about traditional espresso machines, the price of this Imusa stovetop unit might seem too good to be true — but it's real. For relative pennies, you can brew a comparable cup of espresso in this aluminum pot. Just fill the base with water, spoon your grounds into the filter, and throw it on the stove. Within minutes, you'll be rewarded with a potent brew that'll leave regular drip coffee in the dust. Just remember that a "one cup" serving is really a three-ounce shot of espresso.
Pros:
Aluminum body maximizes conductivity and cost-efficiency
Small, one-cup size is ideal for single servings
Easily transportable even if you opt for larger sizes
Cons:
Handle and knob could be made of better plastic
Grosche Milano Stovetop Espresso Maker
Also known as a low-pressure espresso maker, this stovetop unit is a low-mess investment with buzzing returns.
Instead of the high-pressure brewing that characterizes traditional espresso machines, models like this one from Grosche brew espresso by forcing hot water upwards through a metal filter. That means a little bit of boiling water goes a long way, making this a pretty foolproof method for getting your morning caffeine kick. The anodized aluminum body is corrosion-resistant and easy to clean along with the filter and silicone seal. And with a range of colors and sizes, this selection is sure to offer something that suits your home's decor and your coffee habits.
Pros:
Parts are easy to disassemble and clean
Straightforward brewing process
Anodized aluminum is extra durable and corrosion-resistant
Enameled exterior comes in a range of colors
Cons:
Not designed to use with induction stoves
Bialetti New Venus Induction Stovetop Coffee Maker
This option uses stainless steel instead of aluminum for a more durable food-safe stovetop espresso maker.
Whether or not the Bialetti brand name sounds familiar to you, the cartoonish man on the side of its products has become a fairly ubiquitous mascot for mini "moka" makers. It's no wonder, then, that the newer Venus model appears on our roundup. The food-grade stainless steel is less likely to corrode or warp than aluminum, and the bottom is designed to work with all stovetops, including induction. The sizes offered are more suitable for larger servings, so be ready to pour up a cup for yourself and a few friends.
Pros:
Trusted brand name with a patented safety valve to relieve internal pressure
Food-grade stainless steel won't warp or corrode
Bottom is compatible with all stovetops, including induction
Larger capacity is ideal for multiple servings
Cons:
You're paying a premium for a stainless steel body
Primula Today Aluminum Stove Top Percolator
Opt for a cup of traditional, smooth stovetop coffee when a double shot of espresso seems like a bit much.
Okay, you got us — technically this isn't explicitly for espresso. In fact, it's labeled primarily as a traditional coffee percolator, but you can always swap out your regular grounds for espresso if desired. Many aficionados will swear by coffee brewed the old-fashioned way, utilizing the even heat distribution of boiling water. Just fill the basket-style filter with one tablespoon of grounds per five-ounce cup and let the water and stove do the rest. And campers, take note: this is also a great option to brew your campfire coffee.
Pros:
Aluminum body and components are easy to assemble and clean
Clear dome on the lid allows you to check the color to brew the desired strength
Ideal for use while camping or cooking outdoors
Cons:
Doesn't quite brew nine 5-ounce cups as advertised
Zulay Classic Stovetop Espresso Maker
A wide range of shades means you can find a colorful espresso maker that suits your kitchen and coffee needs.
We're not saying that the color of your espresso maker is the most important thing, but we're acutely aware that kitchenware has an aesthetic all its own. If you're in the market for a stovetop companion that looks as good as the coffee it brews, check out this model from Zulay. Depending on your choice of bean and desired ground consistency, this percolator can even create the all-important crema indicative of a true espresso pull. We've highlighted the white version with wooden accents, but we won't judge you for choosing pastel pink or cotton candy blue.
Pros:
Wide range of colors to suit your kitchen aesthetic
Doesn't need to be washed with soap or detergents, just rinsed with water
Stain-proof exterior
Cons:
Only two options for brewing capacity
Frequently Asked Questions
Is stovetop espresso the same as a regularly pulled espresso?
Not quite. Traditional espresso machines use a high-pressure brewing system that releases the maximum amount of caffeine with minimum water. Stovetop espresso makers will still extract more caffeine and flavor than drip machines or pour-overs, but not to the level of their high-tech counterparts. It's also unlikely that you'll be able to create the quintessential "crema" with a stovetop model.
Are espresso beans and coffee beans different?
While the beans start out the same, those used for espresso are roasted longer than those used for coffee. The length of roasting decreases acidity while maximizing the depth of flavor. If you buy your coffee pre-ground, espresso blends will usually be a fine or extra-fine consistency, whereas drip coffee is left coarse. Theoretically, you could use a regular, dark roast coffee in lieu of an explicitly labeled espresso as long as it's ground more finely.
About the Author
Why Trust Us
Since 2010, Momtastic has provided millions of parents with a complete guide to raising a family in a healthy home by offering our expert advice on everything from car seats for kids to baking supplies for the kitchen. It takes a village to raise a family, and our experts are here to make sure every parent finds a little bit of that village in us.